Improving Background Screening Outcomes with Better Coverage and More Precise Data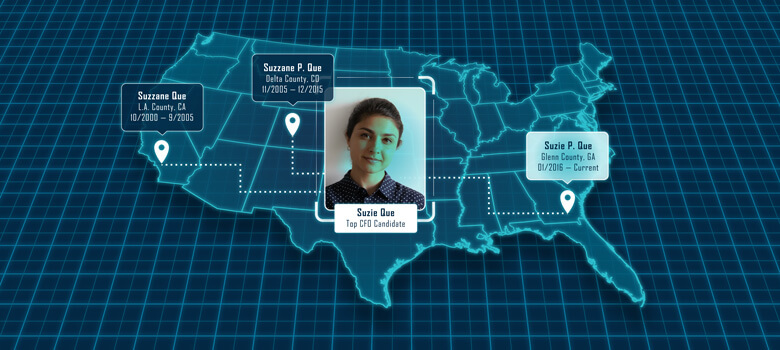 Background screeners often cite jurisdictional coverage as a primary challenge to successful outcomes within their role. With most data vendors providing coverage of only two thirds of total jurisdictions there are significant opportunities for critical information to be missed should it be located within the average 1,200 jurisdictions that lack coverage. Additionally, the thin or incomplete data offered by vendors can further slow the screening process and contribute to additional sunk costs.

IDI is solving both challenges, offering expanded coverage to previously unavailable jurisdictions, and significantly improving the quality and precision of the data obtained. With idiCRIM™ and idiTRACE™, you get industry-leading coverage and superior identity information that speeds your search and reduces costs attributed to bad data.

Our best-in-class database of national criminal history records provides the court record pointers needed to conduct an efficient and thorough background check. idiCRIM searches national criminal, court, arrest, and sex offender records to gather all the relevant indicators required for a background screener to obtain records directly from the source jurisdiction.

Built upon IDI's leading identity intelligence platform, idiTRACE permits a background screener to apply customized search parameters and filters, delivering only the results you find relevant, thereby cutting down on downstream costs and research.

When combined, idiCRIM and idiTRACE help provide the detailed picture necessary for a background screener to manage the screening process confidently and quickly. 

Want to learn more about the superior data and coverage available through idiCRIM and idiTRACE? Meet us in person at the Professional Background Screening Association (PBSA) 2023 Annual Conference, September 10-12, 2023, in Grapevine, Texas.

Talk to one of our experts at booth 122 in the exhibition hall to learn about the customizable solutions that can help you reach your business objectives. To learn more about the PBSA, visit https://thepbsa.org/.

After the conference, be on the lookout for our list of top trends and takeaways we saw at the event.